The KU vessel Mintis to become a mobile laboratory accessible to EU-CONEXUS students
One of the prides of the Klaipėda University fleet _ the multipurpose research vessel Mintis successfully docked in Spain in January _ is currently conducting seabed surveys in the North and Baltic Seas. Active research conducted on it provides students with unique internship opportunities.
The research vessel Mintis boasts multifunctional marine research capabilities and is therefore suitable for applied research and complex studies of components of the marine environment.
KU scientists use it to study flows, physical and chemical properties of water, biological objects, and the seabed. The vessel is also used for scientific purposes and to meet the needs of various activities in the maritime sector.
"Especially intense research is related to offshore wind energy: sea depth measurements, bottom structure research, search for dangerous objects and analysis of the condition of engineering structures. The vessel's equipment, facilities, work area, and laboratories enable conducting practically all kinds of sea-related research", pointed out Tomas Žapnickas, Assistant Captain of the vessel Mintis.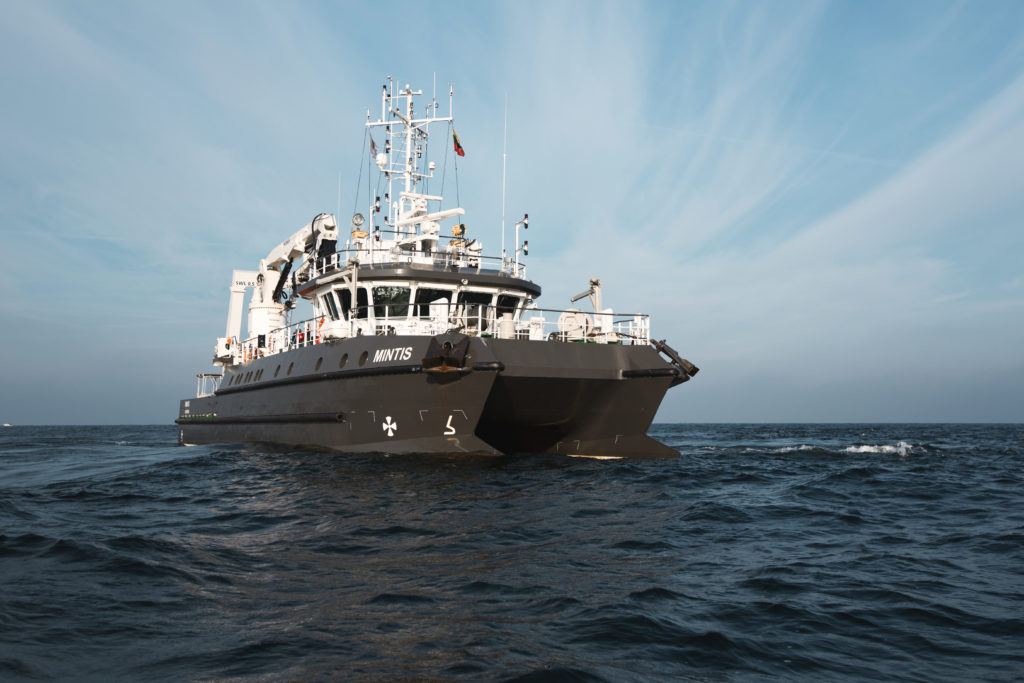 To quote prof. dr. Artūras Razbadauskas, Rector of KU, a modern vessel Mintis ensures freedom for scientific activity and contributes to the establishment in the European maritime research and innovation area.
"The vessel is of interest to major companies developing wind energy on a global scale. We plan to use the scientific potential of the Mintis even more strongly. It is to become a mobile laboratory and provide unique internship opportunities for EU-CONEXUS students", noted dr. Razbadauskas.
According to Žapnickas, Assistant Captain of the research vessel, the Mintis is an excellent platform for student internships and even for the professional development of experienced seafarers.
"They will have the opportunity to get acquainted, and try to work, with a contemporary vessel and research equipment and the needs of contemporary business in the field of scientific and commercial research", Žapnickas emphasized the benefits to students.
11 scientists and 7 crew members work on board at the same time. The vessel has as many as three laboratories: a bio-laboratory, a geo-laboratory, and a computer laboratory. If necessary, they can change their function quite quickly and be equipped according to the needs of the project. Very often all the laboratories become computer labs, i.e. they perform the collection and processing of acoustic, seismic, and other data simultaneously.
Assistant Captain Žapnickas pointed out that the ship has a rear deck for scientific work, the area of which is about 120 m2. Various scientific and project equipment is installed there and used for different underwater and seabed research tasks. The vessel is equipped with a DP1 positioning system, which allows to keep the vessel in place and perform complex underwater operations, such as sampling and wellbore drilling on a precise seabed location, ROV (remotely operated vehicle) operations, and other underwater works requiring precise maintenance of the vessel position or precision of the trajectory of its movement.