Manifesto on the future of European Universities
At the core of European Universities lay the voices of the students. Built up for them, European universities alliances cannot develop without listening to them, considering their opinions and weighing their vision of European Universities.
Students from different European alliances joined forces and voices in a manifesto on the future of universities in Europe. In this proclamation, they reflect on what European Universities should implement to develop themselves in line with the European Union's motto "United in diversity".
United in diversity
For the students who took part in this manifesto, future of European University "depends on their ability to cooperate in common goals as well as to ensure pluralistic programmes". To them, the idea is clear: European alliances need to join forces to generate true collaboration in order to grow together.
Multicultural & multilingual universities
Uniting universities from different countries, European universities are made of a wide range of culture and languages. Seen as "a collective strength", students value this diversity a lot. For them, evolving in a multicultural and multilingual university represents "an adventure of the mind" and "a great way to challenge oneself". Therefore, they hope for more celebration of this diversity in the future.
As so, they would like universities to implement students-led activities to introduce and teach those different culture and languages to each other. Amongst their ideas are language café programmes, film sessions, book clubs…
At EU-CONEXUS, we value this cultural and lingual diversity. Through series of cultural videos, festivals, sports events and students' meetings we intend to promote this diversity and to make it easier for students to learn from one another.
European Degrees
When it comes to European Degrees, students agree to say there is a need for regulation and harmonization for most degrees, except the ones with heavy regulation such as law or medicine. To do so, they suggest the creation of a "European Union body" staffed by the European Commission and the member States that would supervise joint European Degrees and coordinate the standards.
European degrees could take different forms: from a quality seal to a legally recognised diploma, countries would have to recognise as valuable in order to facilitate employment and mobility.
If this solution aims at recognizing degrees on a European scale, one issue remains: the use of English. "Something could be lost if the focus was purely on creating English-speaking degree programmes [benefits of multiculturalism and multiliguism]. We could imagine a joint degree that would involve multilingualism, no matter its subject, and combine semesters in different countries with a strong focus put on language classes upstream of the mobility.
This year, EU-CONEXUS is launching its first Joint Master Programme in Marine Biotechnology. Over the semesters, students get the chance to go study in any university of the Alliance. Whether it is Spain, France, Romania, Lithuania, Cyprus, Greece, Ireland…, students get to experiment and learn one country's culture by immersing in it during at least a semester. Although it is still not possible to deliver a common European degree – as discussions are still being held at a European level -, with this programme, students are studying in one European University but are graduating from six with diplomas recognised in all six partners' countries.
Mobility
Although studying in a European University means enjoying a lot of mobility, this also comes at a cost both financial and environmental.
As the Covid-19 pandemic taught the world how to better connect while being away, students recommend to take advantage of the lessons learned during this time to go hybrid. Shorter exchange periods: 1 semester online / 1 semester onsite, more winter/summer schools, virtual and/or mobility are some of the alternatives they suggest to keep enjoying the mobility European Universities offer while reducing the costs of their travels.
Whatever solutions are to be put into places in the study programmes of European Universities, creativity is going to be a must for them to reduce the financial and environmental costs of the mobility they offer.
Particularly aware of both ecological and economical costs that studying in a European University implies, EU-CONEXUS is designing its study programmes accordingly. For example, its minor programme is hybrid and the university launches summer schools of just a few weeks to reduce impacts of travelling. However, we know full well there are always improvements to make. Therefore, the environmental and financial costs of travels are always on our mind when thinking about the future of our European University.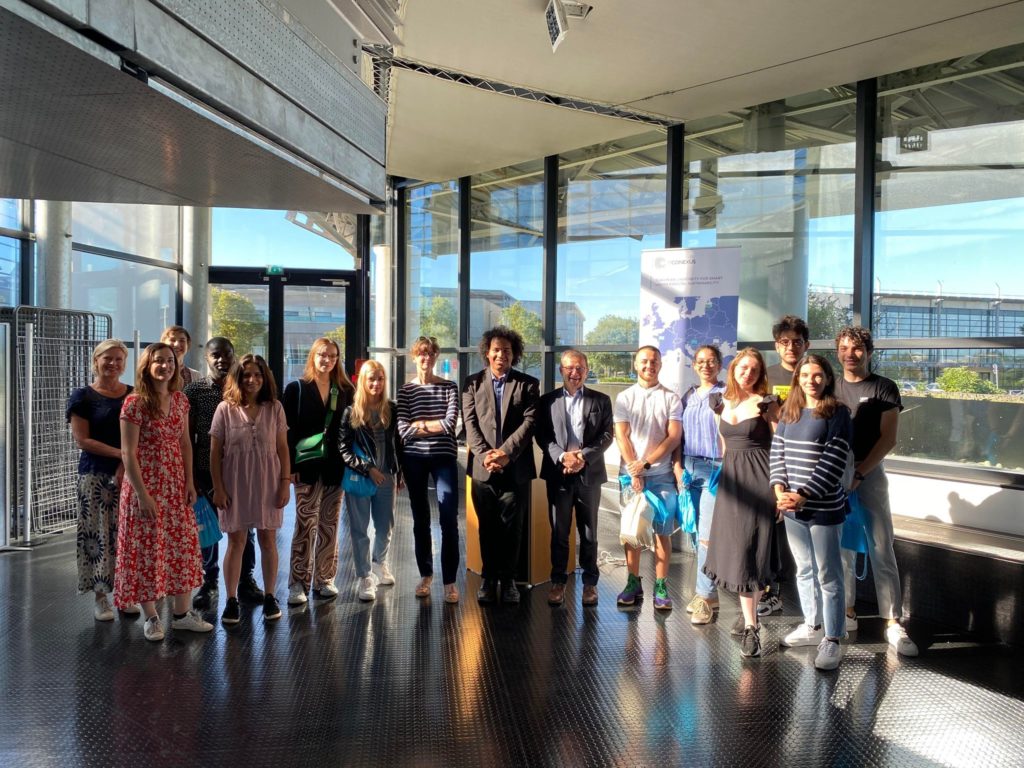 Sustainable University
As the younger generation is sensitive to the effects of climate changes on Earth, sustainability in the universities is highly sought. Therefore, there is a need for European Universities to "ensure education for all through inclusive and fair learning opportunities that respect the planet and its living beings."
To do so, European alliances should think sustainable when building themselves up. Considering their environmental impact, measuring it and implementing solutions to lower it as much as they can. Providing students with skills and knowledge to understand and overcome the existing environmental challenges as well as the future ones. For them, this should come through the courses but also through support from universities in the sustainable projects' students take part in.
Finally, as the generation of tomorrow, students wish to be involved in the constructions of new models for the European Society.
At the core of EU-CONEXUS is the sustainable development of coastal areas. As we aim at building up the next generation of experts in the field of Smart Urban Costal Sustainability, we are extremely conscious of our impact on Earth. This is why we aim at always making our campus greener. We know sustainability and environmental matters are of highly matters to our students and so we like to give them the ability to be involved in how we build our university. During Student Board Meetings, representatives of EU-CONEXUS' students gather to reflect on their vision, ambitions and expectations of a European University. Their feedbacks are of a great importance to us as we want to develop the best university for them.
Cooperation over competition
To be "United in diversity" and in order to achieve their common goals, European Unviersities need to work alongside. They need less competition for more cooperation, communication and inclusion.
Cooperation between European Universities to join forces in building a viable European Higher Education system but also within university members of the alliances to inspire each other, to connect their students and integrate all stakeholders at the same level.
Communication to discuss potentials issues, find solution and accelerate improvement in the models they're building in order to accelerate their development and gain more and more partners.
Inclusion of national staff, stakeholders and students in the decisions taken at European scale.
According to the students' manifesto, inclusion and cooperation could flourish by implementing "a platform in which clear networking can be established […] that this could act as a "contact point" information area providing feedback on issues." Regulars meeting of position holders is also part of their recommendation in order to exchange thoughts and ideas to strengthen the links between members of the alliances.
In the end, "to go from the sketch to the work of art, we need to collaborate and share our solutions to our common problems".
At EU-CONEXUS, we like to believe that "Together, we are stronger". This is why, we take part in common events alongside other European Universities such as the EuroCampus held in Versailles in June 2022. Those moments allow us to learn from one another experience and to align the strategical development of European Universities at international scale in order for us all to benefit from more visibility and more recognition.