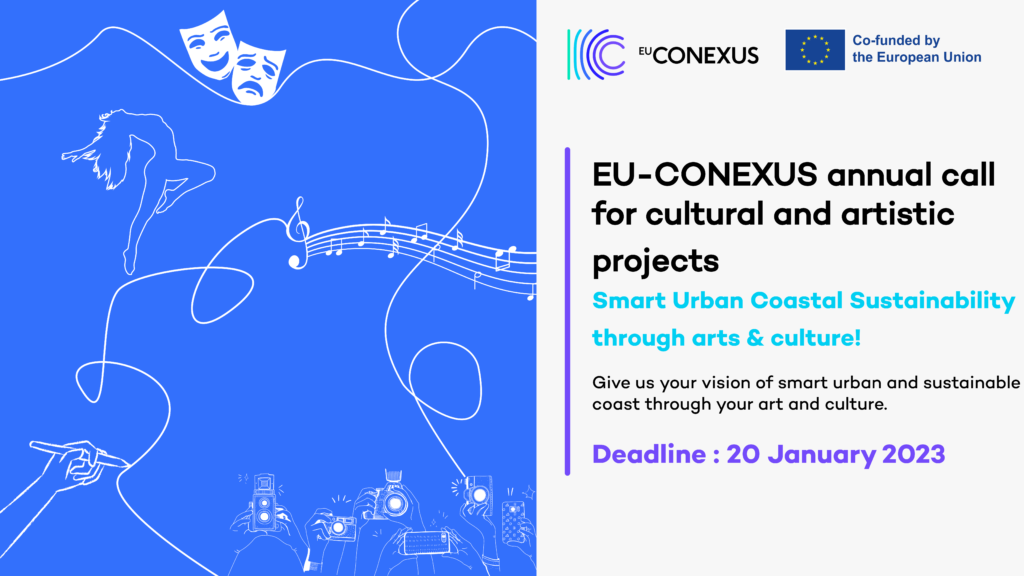 You are a student and you want to be a part of the EU-CONEXUS Festival 2023? This is the right place!
EU-CONEXUS Festival is the opportunity for you to express yourself, your artistic skills, your europeanness through a cultural and artistic project which will promote EU-CONEXUS identity: Smart Urban Coastal Sustainability.
Who is eligible to EU-CONEXUS annual call for cultural and artistic projects?
The call is open to all EU-CONEXUS students community.
The cultural and artistic projects submitted can be made individually or in groups and also with other students of EU-CONEXUS partner universities. (Check out the guidelines)
Which types of cultural and artistic projects?
Students cultural and artistic projects can be of any artistic disciplines :
visual arts (painting, drawing, design, photography, video, …),
performing arts (music, dance, drama), fashion, literature, …
The projects can take various formats : concert, walkabout, performance, reading, drama play, movie/documentary, exhibition, …). (Check out the guidelines)
Deadline for projects submission is 20 January 2023 at midnight (Brussels time).
Selection procedures will be held on the 26th January 2023.
Students whose projects have been selected will be notified by email, week starting 23rd January 2023.
EU-CONEXUS Festival will be held in La Rochelle from the 28th-30th of March 2023.