EU-CONEXUS support for Ukrainian scholars and students
EU-CONEXUS member universities have been collectively working together to provide help and assistance to Ukrainian citizens fleeing the horrors of the Russian invasion of their country. Across all campus, students and student associations, teachers, researchers and staff have all dedicated their time and provided financial support and other resources to be distributed to Ukrainian people and forces fighting the Russian invaders. The Ukrainian flag is waving next to our university and national flags as a firm sign of solidarity.
A number of initiatives have been quickly set up to provide fast and effective relief to thousands who are fleeing their homes.
With UTCB Bucharest bordering Ukraine, the impact of refugees moving across the border is deeply felt here, and their assistance has been immediate. Klaipeda University bordering Poland – a close neighbour of Ukraine – has also been able to generate a lot of direct support and assistance.
UTCB Bucharest partnered with a local neighbourhood to transform one of their student dormitory buildings into a 24-hour facility for Ukrainian refugees, hosting between 200-300 people daily. The building has developed to provide what is required by the refugees now living there, such as a children's' playroom, transportation and translation services. A team of some 50 student volunteers have been helping to provide meals, clothes, and other personal services and support to families and young people coming in.
At Klaipeda University there were already 43 students studying here, mainly from the now war-torn city of Kherson. The Rector met with these personally to assure them that they will be given every form of help and assistance with their studies – which will be free of charge now. All of them will receive help with meals and accommodation, and the city issued them with free public transport travel passes for the year. In addition, new students transferring in from disrupted studies in Ukraine, will also pay no fees to continue their studies here at KU. Besides this, psychological assistance is now also permanently available for the students.
La Rochelle University organised collections of basic food, hygiene products and medical equipment to be distributed to Ukraine. Other universities have provided similar along with long shelf life foods, medicines, child care products, sleeping bags, etc. Both La Rochelle University and Klaipeda have each set up a support account to accept donations for Ukraine. On March 11th – the Day of Restoration of Independence of Lithuania – a Borsch of Freedom campaign of solidarity with Ukraine and its people was held at KU. People were invited to taste the traditional Ukrainian borsch and make donations.
Both Rostock and UCV Valencia have a specialist website set up to provide news and updates on what people on-campus can do to help. To date, UCV have established a support partnership with the international NGO 'Caritas' in order to collect contributions and distribute items donated. On campus, support messages have been signed by the Head Rector, a series of conferences and information articles written about the conflict, and UCV has joined the 'Spanish Universities with Ukraine' network.There are also Spanish language lessons being provided for all Ukrainian refugees arriving.

Frederick University has also entered into a partnership collaboration with a local NGO to help coordinate all the donations they are receiving. Rostock, like many of our Universities, have also started to list vacancies and accommodation on a specially set up website, encouraging Ukrainians to apply.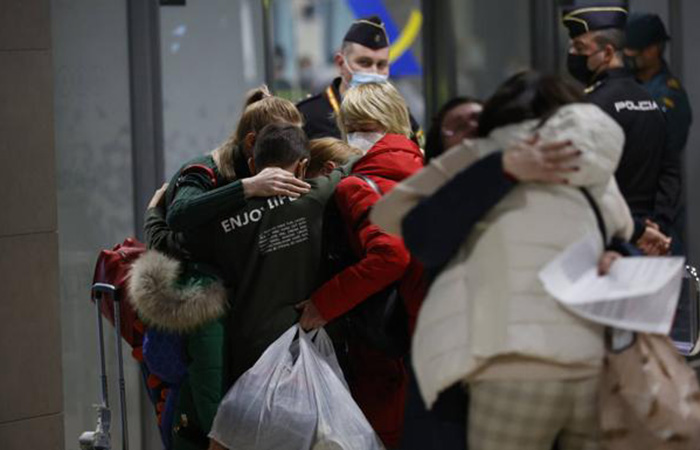 EU-CONEXUS is united in our condemnation of the Russian invasion and we will continue to support Ukrainian refugees coming to our cities while it is no longer safe for them to live in their own country.