EU-CONEXUS PhD Week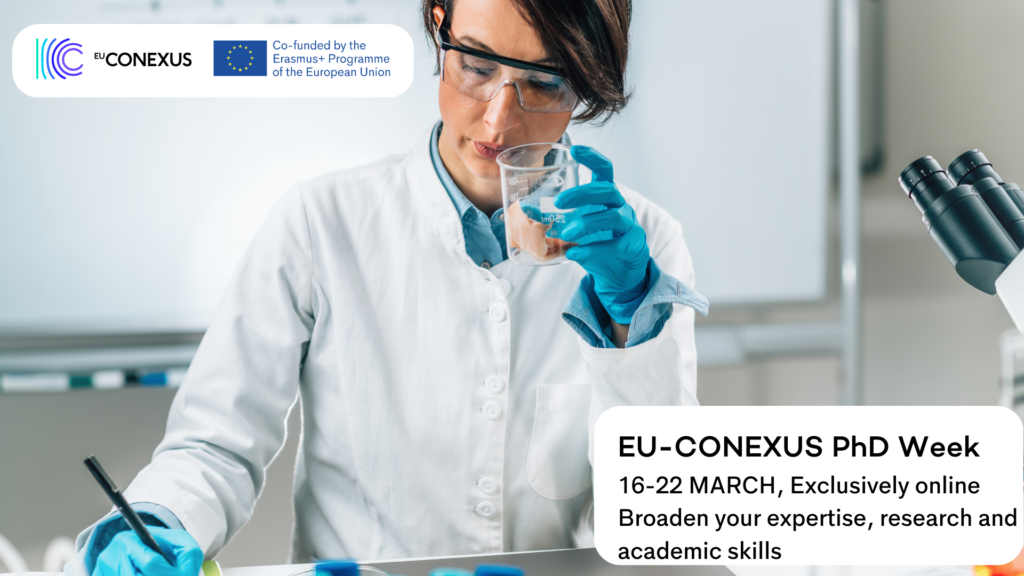 We are officially launch our PhD Week between 16th-22nd of March 2023!
We are delighted to officially launch our new research and academic opportunity for PhD Students – our PhD Week! Now, the students interested in being a part of our PhD Network can do so by joining us, exclusively online, between 16th and 22nd of March to our online sessions meant to help you find valuable information about the wide range of opportunities EU-CONEXUS offers you.
During these sessions, you will find out more info about:
PhD Joint Offer of Courses open for April-June 2023
Next PhD Summer Schools in EU-CONEXUS alliance
Framework for launching co-supervised PhD thesis in the alliance
Research for Society Project outcomes and guidelines for research
Research for Mobility Call
As we try to constantly increase the pool of opportunities for our PhD Students, we encourage you to join us and choose where to apply next!
Please check the Agenda below.
Click here to join the meeting
Meeting ID: 370 760 191 640
Access Code: HqpNEE
Agenda – Paris Time CET
13.30 – 15.00 , Thursday 16th March
EU-CONEXUS presentation, co-tutelle & open courses for Phd Students
15.00 – 18.00, Friday 17th March
EU-CONEXUS Gender Equality Plan and Research Integrity Guidelines
15:00 – 16.00, Monday 20th March
Summer Schools for PhD students in EU-CONEXUS
15.00 – 16.30, Tuesday 21st March
EU-CONEXUS Research for Society Project and Research Mobility
14.00 – 15.30, Wednesday 22nd March
EU-CONEXUS presentation, co-tutelle & open courses for Phd Students