Drones and satellites to be used in the studies of plastic pollution in the Baltic sea
Consumer trends and the enclosed nature of the Baltic Sea are exacerbating the problem of plastic pollution of water. To more effectively identify the areas of concern on the Lithuanian and Latvian coasts, drone and sattelite information will be used. Upon analysing it, scientists will provide their proposals for innovative measures of pollution management.
Algae act as a magnet
During the warm season, holidaymakers notice periods when beaches are full of accumulations of marine vegetation thrown ashore, such as seabed macroalgae or blooming microalgae, usually cyanobacteria. Eventually, such a mass begins to emit an unpleasant odour and thus spoils the pleasure of bathing. Increased levels of potentially pathogenic microorganisms are also observed at the sites of decaying accumulations.
These "islands" of plant origin act like a kind of magnet, attracting various particles floating in the water, including plastic. Scientists believe that collecting and removing these accumulations from water and beaches would have several positive effects. "We would eliminate not only potentially excessive organic matter with the aim of reducing eutrophication and harmful algae, and simultaneously a certain amount of plastic. We would also reduce the risk of human contact with pathogenic organisms – the latter, together with plastic, can be transported long distances", notes dr. Arūnas Balčiūnas, researcher of the Marine Research Institute of Klaipėda University.
Lithuanian and Latvian forces are brought together
Similar measures to reduce eutrophication are already emerging in other countries in the Baltic Sea region, such as on German and Estonian beaches. Lithuanians are considering their use in smaller water bodies; however, scientists still need to find out whether they would be effective in removing a significant part of plastic waste from the sea.
Researchers from the Marine Research Institute of Klaipėda University will search for answers to these questions in collaboration with Klaipėda Science and Technology Park, the Latvian Institute of Aquatic Ecology, Agency of Daugavpils University, and Foundation for Environmental Education in Latvia (FEE Latvia) – four partners have joined forces in the project ESMIC (Estimation, Monitoring, and Reduction of Plastic Pollutants in Latvian-Lithuanian Coastal Area through Innovative Tools and Awareness Raising).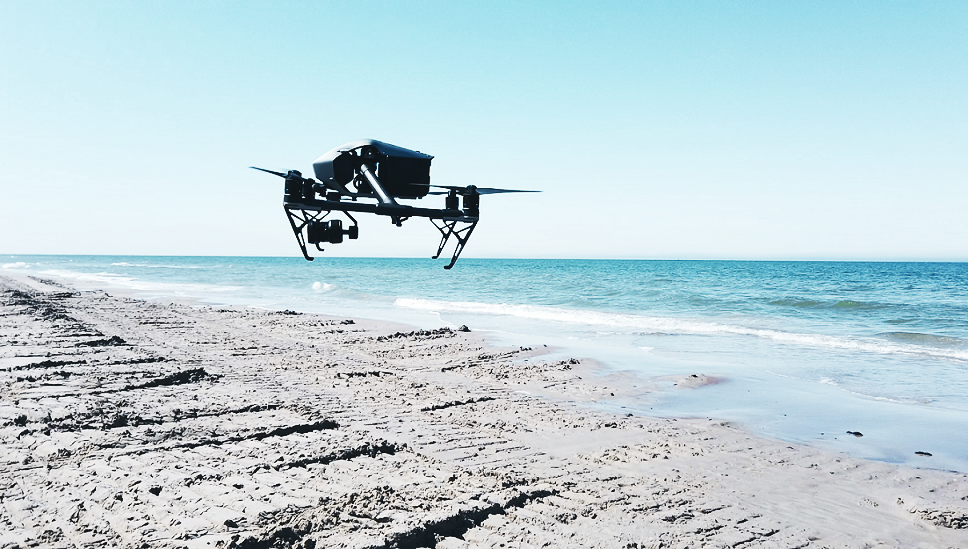 Monitoring water bloom
In order to propose best ways to reduce plastic pollution to national, municipal, and other organizations, the first step to be taken is to collect as much relevant and accurate data as possible. Scientists plan to take samples in the water and on the shore as well as to explore part of the Baltic Sea area with drones and satellites. The works planned within the framework of the ESMIC project will gain momentum in the summer, when the most intense water bloom is observed.
According to dr. Balčiūnas, drones or unmanned aerial vehicles are increasingly used to monitor the environment and various processes: these technologies stand out for their economy and are rapidly improving, thus opening up more opportunities to collect and systematise relevant information. Moreover, for over a decade, Klaipėda scientists have been monitoring, evaluating, and exploring water bloom in Lithuania, and specifically in the coastal region, using satellite data, which provides an opportunity to evaluate the situation on a larger scale.
During the ESMIC project, these technologies will be used on the coasts of Lithuania and Latvia in order to capture the accumulations of plant origin, and simultaneously the "hot spots" of the probable plastic pollution.
An exhibition presented
The information gathered during the project will not remain an object of expert research: in order to cultivate environmental culture, it will be introduced to the general public.
"Experts unanimously accentuate that the only long-term way to reduce plastic waste is to recycle more of it, to reuse it, and to develop production from biodegradable materials. Various regulatory mechanisms and an advanced business approach alone are not enough – public education is necessary, because the habits of each of us matter, and nature has memory," emphasised Roma Stubrienė, Director of Klaipėda Science and Technology Park.
Researchers of Klaipėda University spread an important message about plastic pollution not only through conducting various kinds of research, but also in other formats. On November 16, the exhibition Human Footprint in the Sand held in Klaipėda warned about the long-term effects often resulting from an action that lasts merely a moment, such as dropping a cigarette butt, an ice-cream wrap, or a currently obligatory disposable face mask.
Positive processes are making their way
"Taking into account the present-day circumstances, the level of consumption and the amount of litter, we understand that the Baltic Sea will not clean up by itself – complex measures are necessary for that. Nevertheless, we are observing positive processes, as the public and private sectors are taking the initiative to introduce the much-needed changes," noted dr. Balčiūnas.
Last year, a memorandum was signed in Neringa on reducing the consumption of disposable plastic products, and in January, a resolution was made banning the use of disposable plastic products during events at the resort. The call to reduce the use of disposable plastic was heard by businesses operating in Neringa. A large part of the resort's cafes gave up disposable plastic dishes, cutlery, and straws.
It has been noticed that sustainability and research in this area are becoming increasingly important for companies in the manufacturing sector, as evidenced by the recent awards to Klaipėda FEZ in the annual Free Zones of the Year ranking, released by fDi Intelligence. The company noted the investments of PET and plastics industry companies in research and new solutions in the areas of chemical recycling, increased use of secondary raw materials, and the development of the circular economy as well as sustainability policies implemented by investors.