PhD Summer School in Open Science 2022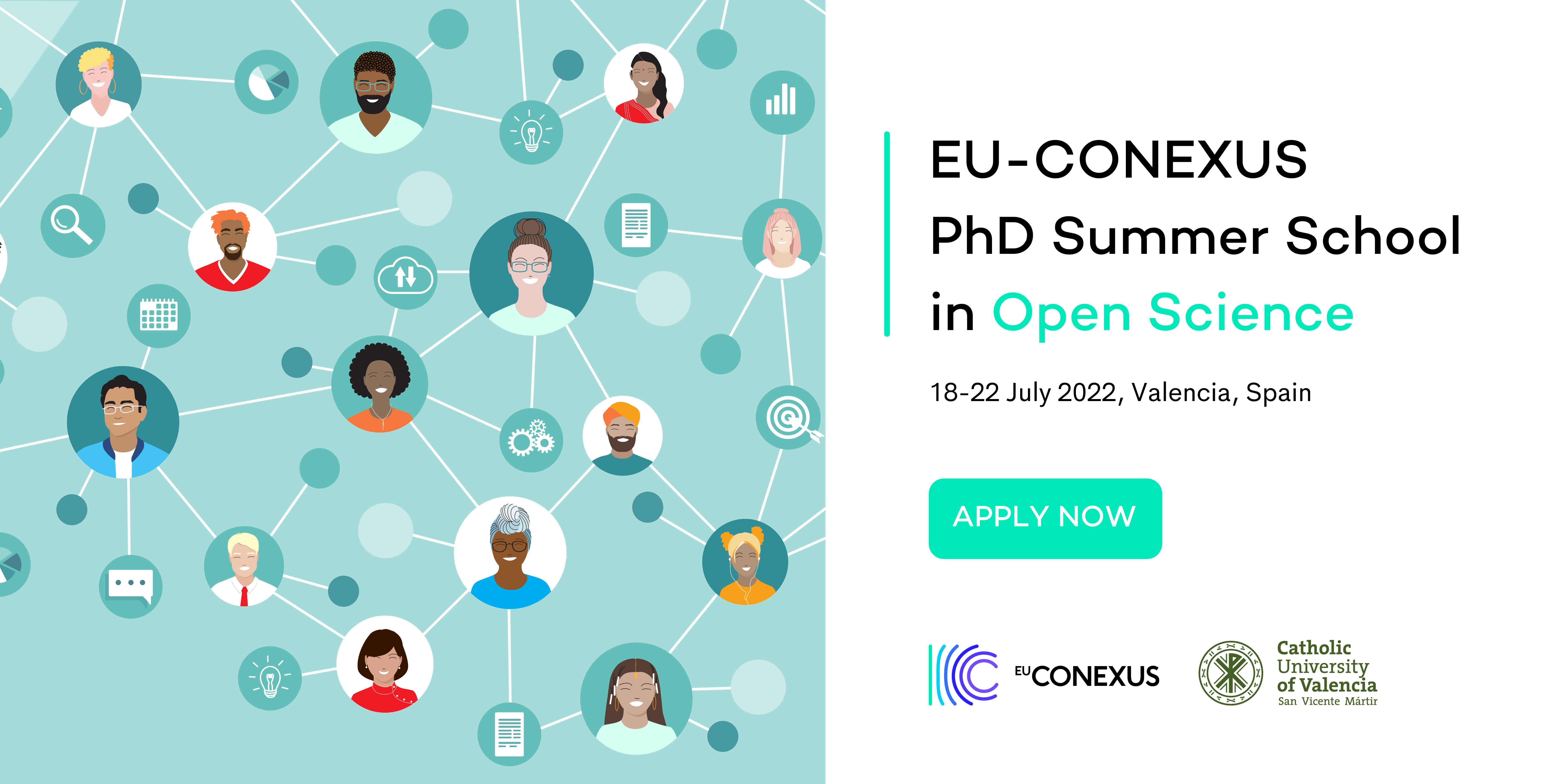 EU-CONEXUS PhD Summer School in Open Science, one week 18- 22 July 2022, in Valencia, Spain. Hosted by Catholic University of Valencia.
This programme will emphasise the importance of Open Science and its global benefits. You will share with other PhD students from different research areas while collaborating and networking during practical sessions on writing research proposals and publishing your research results.
You will present the 3MT, that will help you to summarise and communicate to society your thesis. Click here to see the 3MT poster
There are NO fees. All training, travel and accommodation costs will be covered by EU-CONEXUS.
Click here to see the Brochure
Apply till 22nd of April 2022
English for Sustainability (CLOSED APPLICATION)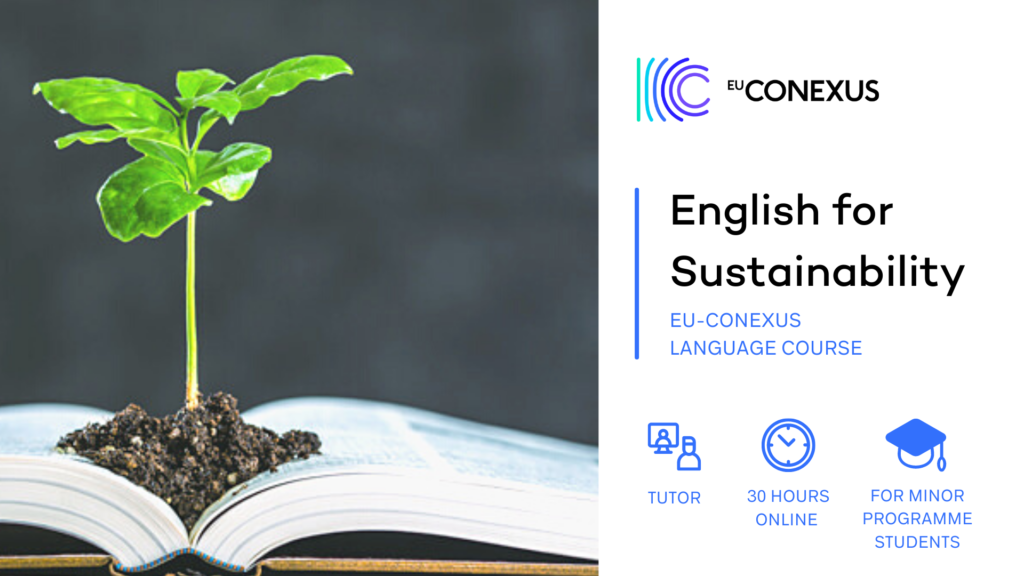 English for Sustainability is an advanced level course to improve your English skills related to the thematic of Sustainable Development Goals (United Nations, 2015).
High standard material is taught through a blend of online-autonomous lessons and activities, accompanied by a tutor for support. After the 30-hour course, you will be able to participate in the conversations on various sustainability-related topics and benefit from your chosen EU-CONEXUS Minor course more efficiently.
The certificate 'English for Sustainability' will approve an advanced level of language for communication in specific fields.
This course is free for EU-CONEXUS Minor students.
More info on the broshure
Social Entrepreneurship Programme (CLOSED APPLICATION)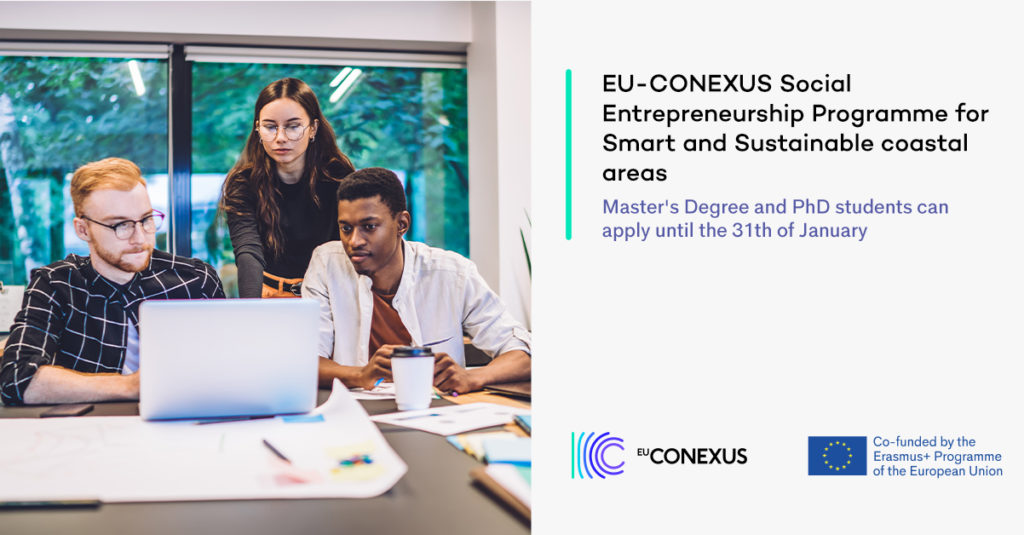 We are very excited you are here! If you are passionate about exploring social start-ups and social business opportunities that have a positive impact in our communities and if you believe in lifelong learning courses, then this Programme is perfect for you. Below you will find all the necessary details for this 1st edition of our Programme!
Who can participate?
Our Social Entrepreneurship Programme for Smart and Sustainable coastal areas is addressed to the 1st, 2nd year MA students and also to PhD students from our EU-CONEXUS partner universities.
We intend to bring together a total of 5 students from each partner university.
You can check the partner universities here .
Who are the organizers?
The 2021 and 1st edition of this programme is powered by the six partner EU-CONEXUS Universities and supported by our associated partners.
What is the scope of this social entrepreneurship programme?
TThrough this programme, we aim to empower students enrolled in the 1st, 2nd year of the MA studies or doctoral studies from one of the six EU-CONEXUS partner universities to become social entrepreneurs!
How will we do this? By giving you the chance to contribute to the creation of a culture that provides for the challenges the coastal areas are currently facing.
You should participate because you will be given …
the chance to broaden your range of skills and competences according to the EU-CONEXUS Skills Map and key competences for Lifelong Learning courses, as stated on the official website of the European Commission
access to a unique Mentorship platform and the chance to choose mentors from start-ups from one of the six EU-CONEXUS countries
the benefit of remaining a part of our Alumni community
the opportunity to visit Bucharest and gain valuable knowledge on social start-ups from our experts
a Europass Certificate Supplement award and a EU-CONEXUS Certificate that will both reflect your learning outcomes and training hours
the unique opportunity to go in an international learning mobility for the six winners
For more detailed information, please make sure you carefully read our official Brochure.
Any inquiries must be sent to the following email address – entrepreunership@eu-conexus.eu .